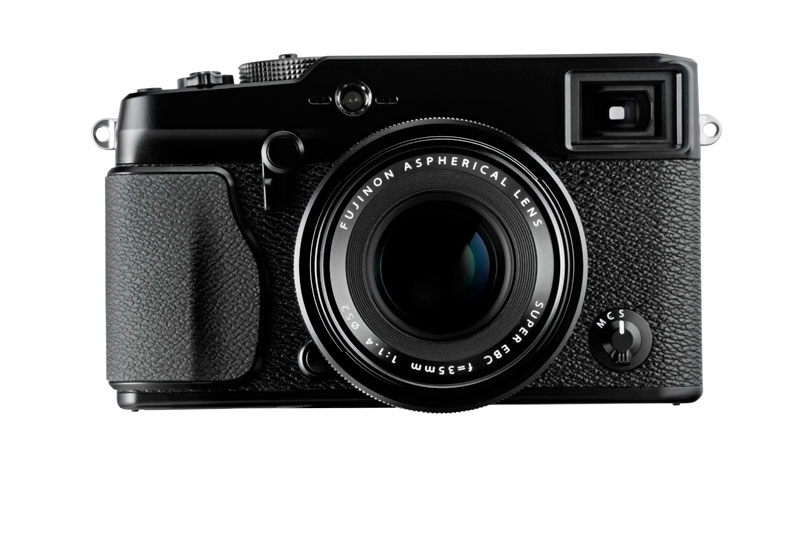 Det är med stolthet Fujifilm presenterar Fujifilm X-Pro1 – ett helt nytt kamerasystem med utbytbar optik. Bakom den nostalgiska ytan gömmer sig en helt ny 16 megapixel APS-X-Trans CMOS bildsensor, en helt ny X-fattning, en ny hybrid multisökare och tre förstklassiga objektiv. Fujifilm X-Pro1 har en extrem bildkvalitet som garanterat kommer att imponera på den professionella fotografen.
Fujifilm har utvecklat den helt nya bildsensorn X-Trans CMOS, som leverar upplösning motsvarande, om inte bättre, än en bildsensor i fullformat. Med en ny sammansättning av färgfiltrena har det varit möjligt att ta bort det så kallade low-pass-filtret, som tidigare varit nödvändigt för att ta bort moaré och färgstick med reducerad bildupplösning som negativ biverkan. Som följd av detta krävs nu en mer kraftfull processor för att bearbeta signalerna. Därför har Fujifilm skapat EXR Processor Pro som maximerar potentialen i den nya bildsensorn med en rask och exakt bildbearbetning. 
Ny fattning X-mount
Den nya X-fattningen har ett avstånd mellan optik och bildsensor på bara 17,7 millimeter, vilket maximerar effekten av ljus som kommer in via objektivet och registreras på bildsensorn. Avståndet mellan optik och bildsensor bidrar också till en högre upplösning. Med hjälp av en M-adapter kommer det vara möjligt att använda Leicas M-optikserie, en spännende kombination som nog faller den kräsna fotografen i smaken.
Nya objektiv XF-optik
I samband med lanseringen av kamerahuset Fujifilm X-Pro1 lanserar Fujifilm också tre förstklassiga Fujinon-objektiv med fast brännvidd. En vidvinkel på 18 millimeter med bländare F2.0 (XF18), ett standardobjektiv på 35 millimeter med bländare F1.4 (XF35) och ett tele/macro på 60 millimeter med bländare F2.4 (XF60).
Ny hybrid multisökare
Fujifilms revolutionerande hybridsökare lanserades redan i föregångaren Fujifilm X100, med möjlighet att byta mellan en optisk och en elektronisk sökare utifrån fotografens prioritering vid fototillfället. Konceptet är nu vidareutveklat och Fujifilm X-Pro1 kan automatiskt välja rätt sökare beroende på vilken brännvidd objektivet har.
X-Trans CMOS bildsensor på 16.3 megapixlar (23.6mm×15.6mm(APS-C)
FUJIFILM X mount-fattning med adapter till Leica-optik och andra märken. 3 nya högkvalitetsobjektiv från Fujinon, 18 mm (F2.0)/ 35 mm (F1.4)/ 60mm (F2.4)
Ny hybrid multisökare som anpassar sökare efter brännvidd (0,37x / 0,6x)
Standard ISO 200 – 6400, expanderbart till ISO 100, 12800 och 25600
LCD 3.0-" RGBW LCD, ca. 1,230,000 dots, (ca. 100% täckning)
Model Name

Fujifilm X-Pro1

Number of effective pixels

16.3 million pixels

Image sensor

23.6mm×15.6mm(APS-C)X-Trans CMOS with  primary colour filter

Sensor Cleaning system

Ultra Sonic Vibration

Storage media

SD memory card / SDHC memory card / SDXC(UHS-I) memory card *1

File format  (still image)

JPEG (Exif Ver 2.3 *2),
RAW (RAF format), RAW+JPEG
(Design rule for Camera File system compliant / DPOF-compatible)

            (movie)

H.264(MOV) with Stereo sound

Number of recorded pixels

L:<3:2>4896x3264 <16:9>4896x2760 <1:1>3264 × 3264
M:<3:2>3456x2304 <16:9>3456x1944 <1:1>2304 × 2304
S:<3:2>2496x1664 <16:9>2496x1408 <1:1>1664 ×1664
<Motion Panorama>
L   Vertical:7680x2160 Horizontal:7680x1440
M    Vertical:5120x2160 Horizontal:5120x1440

Lens mount

FUJIFILM X mount

Compatible Interchangeable lens

・ FUJINON LENS  XF18mmF2 R
・ FUJINON LENS  XF35mmF1.4 R
・ FUJINON LENS  XF60mmF2.4 R Macro

Sensitivity

Equivalent to ISO 200  – 6400  (Standard Output Sensitivity)
AUTO mode : AUTO(400)/AUTO(800)AUTO(1600)/AUTO(3200)
Extended output sensitivity equivalent ISO 100, 12800 and 25600

Exposure control

TTL 256-zones metering, Multi / Spot / Average

Exposure mode

Programmed AE, Shutter priority AE, Aperture priority AE, Manual exposure

Exposure compensation

-2.0EV – +2.0EV, inclement with 1/3EV step

Shutter control

Focal Plane Shutter

Shutter speed
(with mechanical shutter)

(P mode) 1/4 sec. to 1/4000 sec.,
(All other modes) 30 sec. to 1/4000 sec.
Bulb (max.60min.)
Time 2 to 30 sec
Synchronized Shutter speed for flash :1/180 sec or slower
*1/180 sec can be automatically set at some shooting condition on P mode or A mode.

Continuous shooting

Max 6 / 3 fps selectable

Auto bracketing

AE Bracketing (±1/3EV, ±2/3EV, ±1EV)
Film Simulation Bracketing (Any 3 type of film simulation selectable)
Dynamic Range Bracketing (100%, 200%, 400%)
ISO sensitivity Bracketing (±1/3EV, ±2/3EV, ±1EV)

Focus   (mode)

Single AF / Continuous AF/MF Distance Indicator

             (type)

TTL contrast AF, AF assist illuminator available

     (AF frame selection)

Area (EVF/LCD:49 areas with 7x7、OVF:25 areas with 5x5)/ Multi
* changeable size of AF frame: among 5 type

White balance

Automatic scene recognition
Custom, colour temperature selection (K)
Preset: Fine, Shade, Fluorescent light (Daylight), Fluorescent light (Warm White), Fluorescent light (Cool White), Incandescent light, underwater

Film Simulation mode

10 type (PROVIA/STANDARD, Velvia/VIVID, ASTIA/SOFT, PRO Neg Hi, PRO Neg. Std, MONOCHROME, MONOCHROME+Ye FILTER, MONOCHROME+R FILTER, MONOCHROME+G FILTER, SEPIA)

Dynamic range setting

AUTO(100-400%)、100%、200%、400%

Self-timer

Approx. 10sec. / 2sec. Delay

Flash modes

Hot shoe with TTL contacts; sync terminal
Red-eye removal OFF: Auto, Forced Flash, Suppressed Flash, Slow Synchro. Rear-curtain Synchro, Red-eye removal ON: Red-eye Reduction Auto, Red-eye Reduction & Forced Flash, Suppressed Flash,                        Red-eye Reduction & Slow Synchro. Red-eye Reduction & Rear-curtain Synchro

Hot shoe

Yes ( dedicated TTL Flash compatible)

Viewfinder

Hybrid Multi Viewfinder
Optical viewfinder
Reverse Galilean viewfinder with electronic bright frame display
Magnifications : 0.37x / 0.6x
Coverage of frame area v.s. capturing area  :  approx. 90%
Electronic viewfinder
0.47-in., approx.1,440,000-dots colour LCD viewfinder
Coverage of viewing area v.s capturing area :  approx. 100%
Eye sensor installed
Eye point  : approx. 14 mm

LCD monitor

3.0-inch RGBW (White) LCD monitor, approx. 1,230,000dots,  (Approx. 100% coverage)

Movie recording

1920×1080 pixels, 1280 x 720 pixels  (24frames / sec.) with stereo sound
Individual movies cannot exceed 29 minutes in length.

Photography  functions

Select custom setting, Motion panorama, colour space, colour (Saturation), sharpness, Dynamic range, Film simulation, Gradation, Auto red-eye removal, Framing guideline, Frame No. memory, Histogram display, Preview depth of focus, Focus check, Electronic level, Multiple exposure, Date input, Fn button setting (RAW, Movie, etc)

Playback  functions

RAW conversing, Image rotate, Red-eye reduction, Photobook assist, Erase selected frames, image search, Multi-frame playback (with micro thumbnail), Slide show, Mark for upload, Protect, Crop, Resize, Panorama, Favourites

Other functions

PictBridge, Exif Print, Languages selection, Time difference, Quick start mode, Power save mode, Silent mode

Terminal (Video output)
(Digital interface)
(HD output)

ー

USB 2.0 High-Speed

HDMI mini connector

Power supply

NP-W126 Li-ion battery (included)

Dimensions

139.5 (W) mm x 81.8 (H) mm x 42.5(D) mm / 5.5in.(W) x 3.2in. (H) x 1.7 in. (D)
(Minimum depth: 34.1 mm/ 1.3 in.)

Weight

Approx. 450g / 15.9 oz. (including battery ) and memory card)

Approx. 400 g /14.1 oz. (excluding accessories, battery and memory card)

Operating Temperature

0℃ – 40℃

Operating Humidity

10 – 80%  (no condensation)

Battery life

approx 300 frames

Starting up period

Approx. 0.5 sec. ( Approx 1.0 sec, when QUICK START mode and Power save mode is set to OFF)
* evaluated  by FUJIFILM method

Accessories included

Li-ion Battery NP-W126
Battery Charger BC-W126
Shoulder strap
USB cable
Body cap
Metal strap clip
Protective cover
Clip attaching tool
CD-ROM (Viewer software, RAW File Converter etc. *3 )
Owner's manual

Optional accessories

Li-ion battery NP-W126
Battery charger BC-W126
Shoe Mount Flash EF-20、EF-42、EF-X20
Interchangeable lens  FUJINON LENS  XF18mmF2 R
Interchangeable lens  FUJINON LENS  XF35mmF1.4 R
Interchangeable lens  FUJINON LENS  XF60mmF2.4 R Macro
Protector Filter PRF-52    52mmΦ
Protector Filter PRF-39 39mmΦ
Hand Grip  HG-XPro1
Leather Case LC-XPro1
* The lens of focal length at 35mm or less can be placed in this leather case with the camera X-Pro 1.